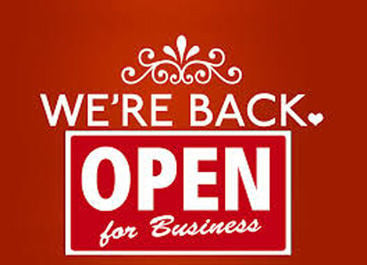 Many of you have been patiently enduring aches and pains waiting for regular treatments to resume and we are excited to announce that we have finally gotten the go ahead EFFECTIVE IMMEDIATELY!
**PLEASE NOTE OUR MASSAGE THERAPY START DATE IS DELAYED DUE TO CLARIFICATION OF PROCEDURES FROM THEIR COLLEGE AND WE ARE HOPEFUL TO RESUME MASSAGE AS OF JUNE 8, 2020**
Our clinic has been working together on new protocols and procedures over the past few weeks in preparation for this news. These new protocols are in place to keep you and our practitioners and staff safe and ensure we are following all the guidelines set out by the Ministry of Health and our Governing bodies.
The clinic has been deep cleaned and will be regularly cleaned at the end of each day. Additionally, each treatment room including medical equipment as well as touch surfaces at the front reception area will be cleaned and disinfected in between patients. All practitioners and front desk staff will be wearing personal protective equipment (PPE) while they are in the clinic as well as specific clean "work clothing" that will only be worn in the clinic. Plexiglass sneeze guards have been installed at our front desk and contactless payment by tap for debit and credit card transactions will be accepted.
We have limited our clinic to no more than 2 practitioners working each day in order to stagger appointment times effectively and ensure that patients do not come in to contact with each other when they are at the front desk making a payment and booking their next appointment or when entering or leaving the clinic. To help this process we have adjusted our online booking to allow online bookings for Dr. McGlashan, Meera Senjaliya, and Dr. Maria Galantai, BUT our massage therapy appointments will be booked by calling the clinic. Our practitioners have adjusted their schedules to accommodate these changes as well as incorporate extra time after each appointment to clean and disinfect their treatment room. To help aid the smooth transition of appointments we kindly ask that you arrive promptly at your appointment time and are understanding that if you are late we may not be able to accommodate our schedule to fit you in. Please click here for our new practitioners hours.
To help us ensure we are doing everything we can to keep you and our practitioners safe, here is the new protocol for attending an appointment:
1. The day before your appointment we will call and ask you a few screening questions in regard to COVID-19. If you are feeling unwell we kindly ask that you reschedule your appointment. Though we will be more lenient with our cancellation policy, we do ask that you be respectful of our practitioners schedules and give at least 24 hours notice when possible if you are unable to attend your appointment.
2. Face masks are now required for all patients in the clinic except children under the age of 5 or those whom for medical reasons can not wear a face mask. If you have a face mask at home you are welcome to wear that to your appointment. If you do not have a face mask we have disposable masks for $2 or a re-useable cloth mask for $10 at the clinic.
3. Please arrive promptly at your scheduled appointment time and wait in your vehicle or outside the clinic if you did not drive to the clinic. We will call you when your practitioner is ready, and they will meet you at the clinic door to let you in. You will be provided hand sanitizer to sanitize your hands and then asked to put on your face mask if have not already done so.
4. Friends and family will be asked to wait outside the clinic or in your vehicle while you are in the clinic for your appointment unless you require physical assistance or for young children 1 parent may accompany them.
5. Please bring only essential items in with you (e.g. car keys and a payment card).
6. The bathroom will not be available to patients at this time except for emergencies.
Additionally, we have been asked by the Chief Medical Officer of Ontario to use video appointments whenever possible to reduce the time patients are in the clinic or to manage patient symptoms that may not need to be seen in the clinic. As such, we will be encouraging patients to book video appointments with Dr. McGlashan, Dr. Maria Galantai, and Meera Senjaliya to work on self care home programs to further your clinic treatments and patients who have not been in for at least 6 months and new patients may be asked to do part of their appointment by video (the history portion) and then the treatment portion in the clinic.

While we realize that this is our new "normal" for now, we appreciate your understanding and cooperation as we continue to provide you with exceptional care in a safe and clean environment.

See you soon!
---
It's hard to believe we have now been temporarily closed for 2 MONTHS!
While we were hopeful that our clinic would be included in Phase 1 of the reopening process that begins tomorrow May 19, 2020 we unfortunately are not part of Phase 1 and will need to remain closed to regular in clinic treatments for at least another 2 weeks when Phase 2 may begin.
At this time we have not been informed officially if we will be included in Phase 2, but we have have been working diligently to prepare the clinic and welcome you back. Our practitioner hours will be changing slightly along with our regular procedures coming in and out of the clinic in order to ensure we are doing everything possible to keep you and our practitioners and staff safe. There will be more details about this once we get the official announcement that we can re-open...stay tuned!
For now, both Dr. Christina McGlashan and Meera Senjaliya continue to be available for video appointments and emergency in clinic treatments for Chiropractic, Acupuncture, Physiotherapy and Pelvic Floor Physiotherapy. Both Dr. McGlashan and Meera have had positive feedback from patients about how helpful video appointments have been. Now is a great time to experience first hand how much we can help you virtually as during our temporary closure the first video appointment for existing patients is complimentary. If you are experiencing symptoms that need some help please book your online video appointment and let us help you!
---
A MESSAGE FROM OUR CLINIC OWNER
With a month now having passed since we temporarily closed the clinic to regular scheduled treatments, we would like to update you on our clinic and the closure. First, we hope that you are managing well staying at home and forming a new routine. We have been continuing to watch the news and receive direction from varying levels of Government and our various associations. It is clear at this time that our clinic will remain closed to regular treatments in the clinic until at least mid-May as Premier Ford has extended the Emergency declaration for Ontario and closure of non-essential business until May 12, 2020. It is unknown if this will be further extended, but we do anticipate that when this Emergency declaration is over that it will be a slow return to re-opening and that it may be some time before we are able to resume treatments in our clinic as you have experienced previously. We will keep you updated as we learn more in regard to when re-opening will occur as well as what that will involve as soon as we find out.
Second, we want you to know that we have not "abandoned" you! We miss seeing all of you in the clinic and participating in your health and well-being. Dr. McGlashan, our clinic owner, has been working to form new options to help you during this unprecedented closure, and is pleased to announce there are some options available to you. She has now forwarded the clinic phone to her cell phone and will be available to answer calls between 10:00am and 5:00pm Monday to Friday. While we are closed for regular routine treatments we are still available to help you for treatment in two ways: EMERGENCY TREATMENTS and VIDEO APPOINTMENTS
EMERGENCY TREATMENTS are available in the clinic with either Dr. McGlashan or Meera Senjaliya, but these must be booked in advance. If you are unsure as to whether you need Emergency treatment call the clinic and speak to Dr. McGlashan OR book a complimentary video appointment with Dr. McGlashan or Meera Senjaliya. There are specific protocols and procedures that we must follow for Emergency treatments and we will walk you through those if you are scheduled for an Emergency treatment.
VIDEO APPOINTMENTS. We are pleased to announce that Dr. McGlashan AND Meera Senjaliya are available for VIDEO appointments to help you at home. There is a lot that we can do through video appointments including assessing to determine if you can be helped through video or if you need to come in to the clinic for an in person Emergency treatment. We understand Video appointments can not replace our regular hands on treatments in the clinic, but there are still many things we can do and can help you with through video. We encourage you to read through our Video Appointment FAQ as this will provide you with many answers to questions you have about this new form of treatment.
As this is a new form of treatment and way of delivering care to you we are offering a COMPLIMENTARY 15 minute video appointment with either Dr. McGlashan or Meera Senjaliya to try this first hand and see how beneficial it can be.
For more information on Video appointments please visit the Video Appointment FAQ page on our website which includes information about what they are, how they can help, how to book, fees, etc..
---
Due to growing concerns around COVID-19 and as mandated by the Government of Ontario we have temporarily CLOSED our clinic for regularly scheduled treatments until further notice.
All scheduled clinic appointments have been CANCELLED until we are able to re-open.
---
We appreciate how unprecedented this situation is and want to reassure you that we are doing our part to help decrease the spread of COVID-19 in closing our clinic temporarily. If you were scheduled for an appointment that was cancelled during this time we will contact you when we re-open the clinic to schedule a new appointment. We realize this may create additional stress for you as you are not able to see us for your regular treatments to help manage pain and symptoms.
To help you during this temporary closure, if you require emergency acute care please call the clinic, 905-257-9960, and leave a message. Voicemail is checked daily at 5pm. Dr. Christina McGlashan will contact you to discuss scheduling options, provide advice or refer you to appropriate resources. Telehealth (video) appointments are available with Dr. McGlashan on Tuesdays and Thursdays 1pm-3pm for our existing Chiropractic patients to help you directly one on one. Telehealth appointments can be booked online.
Dr. McGlashan will also be posting on Facebook some simple at home exercises and general advice during this time.
We appreciate your cooperation and understanding during this difficult time, and hope to be back in the clinic soon. Please visit our website regularly for updates on re-opening dates.